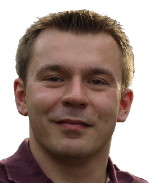 Robert Nowak
Freelance Java EE Developer, Team Leader
Born and raised in Steszew, I graduated from Poznan University of Technology with a master of science degree in Computer Science in 2007 and have been working on software development projects since.
When not enchanting software to run flawlessly, I enjoy (offline) socialising and cycling. I'm also pretty attached to my two main time consumers: Kindle & PS3.
Employment
Software development for top investment banks - GFT (formerly Rule Financial) in Poznan

Feb 2013 - onwards

Big data project in secure lending area (2014-onwards)

Technical team leader, responsible for gathering requirements, design and implementation supervision.
JEE 7, Oracle Coherence, Spring Framework.

Risk-assessment platform (2013-2014)

Appointed to be main Java developer on one of a delivery streams that built up to a risk-assessment platform. Designing the project architecture, code implementation and supervision, communication with the client
JEE 6 and 7, OSGI 4.2, Spring Framework 3, financial libraries

Software development for Roche

Oct 2011 - Feb 2013

Systems integration platform (ongoing)

Created a message-driven data exchange system for the integration of Roche's heterogeneous systems.
JEE 6, OSGI 4.2, Spring Batch 2, Spring Integration 2, JBOSS A.S 7

Design and development of CMS templates based on CQ5

Member of a software development team responsible for creating CMS system architecture using Adobe's Communique 5 platform including OSGI and Velocity-based solutions for customizable mailing.
Liaised with clients and content managers to create a coherent solution within the time schedule.
Successfully applied good software creation, test, release and maintenance practices acquired when working in large scale systems.
JEE 6, Adobe CQ5, JCR, Sling

Baroo Software

Jun 2010 – Sept 2011

Created a software product for a specialist provider of SEPA payment solutions for banks and corporations across Europe as a member of a team based in Poznan, Poland

Worked as a part of a UK-based development team, gained experience and practice in outsourcing.
Began work as a developer, promoted to a Team Lead role.
Participated in remote planning and task estimation sessions as a team leader of the Polish group.
Implemented Maven profile-based code to minimize code redundancy while still creating a client-specific output including different work flows.
Conducted interviews with technical developers, evaluated candidates and took part in employment decision-making.
Created a multi-tier transactional implementation for various payment file formats
Implemented security mechanisms to prevent XSS attacks.
JEE 5, Hibernate 3, Spring 3, Eclipse 3, Maven 2.

Team Manager, Comarch S.A.

Oct 2008 – May 2010

Development and management of development teams creating enterprise Java software for the banking sector.

Participated in the creation of the software requirements analysis and managed a team of 5 developers creating a multi-tier life insurance product. Scheduled and supervised the work in progress, liaised with the clients to ensure a smooth flow of information. Responsible for the quality of the end-product.
Redesigned, coded and supervised the software architecture that allowed for using the existing claims system in a new project by inheriting and extending core modules while removing performance bottleneck by implementing a distributable thin client solution.
Promoted to the position of the Project Manager when supervising three projects in maintenance phase. Reorganized the support flow, negotiated software release delivery with clients, motivated co-workers and reduced lead time and a growing queue of pending issues to meet the deadline set out in the contract.
JEE5, ComarchESB, Spring, GWT 1.4, Jboss 4, Oracle DB, Hibernate 3.

JEE Developer, Comarch S.A.

May 2008 – Sept 2008

Development of banking software solutions.

Implemented a non-life insurance solution for a bank.
Provided test-driven development and basic application servers configuration.
Promoted to Team Leader for a new life insurance project.
JEE 5, Tomcat 5, WASCE, Apache HTTP Server, Eclipse.

JEE Developer, Rodan Systems S.A.

Mar 2006 – Apr 2008

Began work as a last year student, continued after graduation.

Participated in the creation of Public Information Bulletin as a Junior Software Developer,.
Implemented documents management software for the Polish public service as a Software Developer,.
J2EE 1.4, Struts 1, JSP, Eclipse, XSLT, CVS.
Education
Master's degree in Computer Science

2006 - 2007

Poznań University of Technology

final grade: 5/5

Computer Science Engineer

2002 - 2006

Poznań University of Technology

final grade: 4.5/5
Expertise
Java Software Development
Team management
Algorithms design
Multithreading
Experienced user
Enterprise Java
Spring
Hibernate
Oracle Coherence
Tomcat 5, 6
JBOSS AS 4, 7
Adobe CQ5
JSP 2
Oracle DB 11g
Dealt with in the past
Struts 1
EJB 3
jBPM 4
LaTeX
JCR
Apache Sling
JSF
Hudson
MySQL 5
JUnit 4
EasyMock 3
JasperReports
JBoss ESB
JBoss Drools 4
WASCE
Operating systems
Linux (everyday user)
Windows
Tools used
Eclipse 3, Intelij Idea
Maven
SVN, CVS, Git
Jira
Bugzilla
Some of the projects i'm proud with
Contact info
Go ahead and contact me using contact form or the information on the profile page.

Website: www.robertnowak.pl